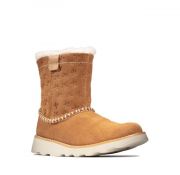 Enlarge

Sale
Crown Piper Kid G
color:
tan suede
material:
suede
inside:
sheepskin
insole:
polar
fitting:
G
price:
€47.50
(

€72.5

)

Deal Save €25.00
Description
Presented sizes available in enlarged width of feet "G"(wide fit)
Technologies:
Clarks XL Extralight Clarks Extralight XL - XL Extralight construction which is a combination of extremely lightweight durable flexible and shock absorbing soles with a soft insole. The result: extremely durable and comfortable shoes.
Podeszwa EVA EVA sole - sole made in EVA technology (ethylene vinyl acetate) is a lightweight flexible durable resistant to frost porous and wear resistant.
Related Products: