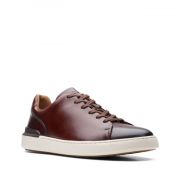 Enlarge

Sale
Court Lite Lace H
color:
dark tan leather
material:
Full grain leather
inside:
leather
insole:
leather
fitting:
H
price:
€74.50
(

€148.5

)

Deal Save €74.00
*Lowest price in the last 30 days: €74.50
Description
Presented sizes available in enlarged width of feet "H"(wide fit)
Technologies:
Rubber sole Rubber sole - rubber with a high density is used in the production of highly durable outsole in order to ensure good adhesion stability and support the natural freedom of bending the foot while walking. Rubber sole is also used in some models to achieve sporty look.
Podeszwa EVA EVA sole - sole made in EVA technology (ethylene vinyl acetate) is a lightweight flexible durable resistant to frost porous and wear resistant.

Clarks Plus Clarks Plus - the use of additional cushioning over the entire area under the big toe supports the natural behavior of the foot and increases comfort while walking
Related Products: