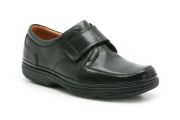 Enlarge

Sale
Swift Turn H
color:
black
material:
Full grain leather
inside:
leather,fabric
insole:
leather
fitting:
H
price:
€77.50
(

€120.5

)

Deal Save €43.00
Additional photos:
Description
Presented sizes available in enlarged width of feet "H"(wide fit)
Technologies:
Rubber sole Rubber sole - rubber with a high density is used in the production of highly durable outsole in order to ensure good adhesion stability and support the natural freedom of bending the foot while walking. Rubber sole is also used in some models to achieve sporty look.
Clarks XL Extralight Clarks Extralight XL - XL Extralight construction which is a combination of extremely lightweight durable flexible and shock absorbing soles with a soft insole. The result: extremely durable and comfortable shoes.
Related Products:
Swift Mile H
€65.50
black