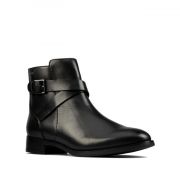 Enlarge

Sale
Hamble Mid Gore-Tex E
color:
black warmlined leather
material:
Full grain leather
inside:
sheepskin
insole:
leather
heel height:
3 cm
fitting:
E
price:
€95.50
(

€187.5

)

Deal Save €92.00
Description
Presented sizes available in enlarged width of feet "E"(wide fit)
Technologies:

Clarks Plus Clarks Plus - the use of additional cushioning over the entire area under the big toe supports the natural behavior of the foot and increases comfort while walking
PU sole PU sole - polyurethane foam is lightweight flexible and durable. At the same time retains the ability to absorb shocks even for very thin soles. Despite the fact that it is very resilient it provides stability and sense of balance for the foot
Gore-Tex Gore-Tex is a breathable and waterproof system for keeping your feet dry throughout the year. Gore-Tex is a fabric of microscopic pores which are 20 000 times smaller than a drop of water. Fabric features protective layer on the shoe tab and secured seam make the shoes waterproof. Each pore is 700 times greater than the water vapor molecule so that the air inside the shoe can easily get out and the feet even in warm weather stay dry and cool.
Clarks Warm Lined Clarks Warm Lined - a combination of materials all working together helps to insulate shoes and keep feet warm.
Related Products: